Tag: trauma sensitive training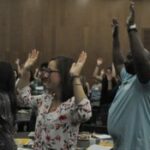 Sometimes student behaviors occur without warning, so developing ways to help students deal with stresses and providing teachers and school staff with trauma sensitive training so they can help are critically important.
"A lot of our students come from backgrounds where they've experienced trauma, and I think it's our job as educators to be able to educate them in the best way possible," said Jeff Martin, a language arts teacher at Osborn Middle School. "I think that comes from learning how to inform our own practices about trauma."
Creating boundaries, developing a support resource team, and finding ways to prevent compassion fatigue helps make classrooms and schools safer and more inclusive, said Meghan Stogner, MPC, a program manager for school-based services with Touchstone Health Services, which provides on-campus behavioral health services at 41 Arizona schools.