Tag: tooth decay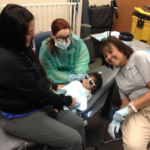 A Northern Arizona University dental hygiene outreach program is credited with helping reduce tooth decay among area children.
Several times each year, NAU dental hygiene students visit child care centers to provide oral health screenings, education and fluoride varnishes. The outreach is part of the Coconino County Smart Smiles Program.
A new report showed Arizona reduced the percentage of kindergarteners with untreated decay by eight percent compared with findings in a 2003 report.
The study, "Taking a Bite Out of School Absences: Children's Oral Health Report 2016," was conducted by the Arizona Department of Health Services and First Things First, a statewide group promoting early childhood health and education.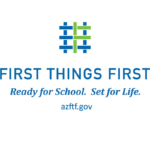 Dental decay is one of the leading causes of school absenteeism, and it can start to develop as soon as a child's first tooth appears. The most common chronic disease among children in the United States, untreated tooth decay can cause pain and infections that may lead to other serious problems with eating, speaking, playing and learning. Halloween, with its focus on sugary treats, offers the chance to remind families about the importance of caring for their infant or toddlers' teeth.