Tag: The United Way of Northern Arizona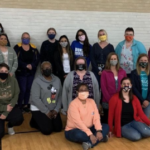 On a recent Saturday morning, a group of about 20 educators from Flagstaff, Williams and Pinetop-Lakeside met in the gymnasium of Kinsey Elementary School for a special orientation and training session.
Typically, rising early to sacrifice your day off for mandatory training doesn't generate a lot of enthusiasm, but in this case the excitement was palpable. Why?
Because KinderCamp™ is coming back.
"There was just a buzz in the room," said Sara Owen, the coordinator for the program that helps preschoolers with the foundational, social and academic skills needed to successfully transition into kindergarten. "People are really looking forward to being part of this again – and having it in person."