Tag: Technology in the classroom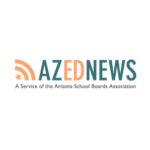 Today's students were born with technology that lets them find information instantly, respond to it quickly, and share their response on social media in seconds. So is it any wonder that they find it tedious to read a textbook chapter and answer the questions at the end?
Classroom instruction should adapt to this information revolution by using the technology that's part of kids' lives to engage students, build on their strengths and encourage them to create, collaborate and explore deeper meaning, said Holly Clark, a former middle school English Language arts teacher who is now educational strategist and head of publishing for Google Ed Tech Team at North Canyon High School on June 5, 2018.