Tag: technology and school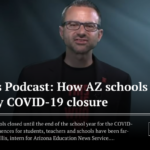 With Arizona public schools closed until the end of the school year for the COVID-19 pandemic, the consequences for students, teachers and schools have been far-reaching, says Morgan Willis, intern for Arizona Education News Service.
Hear what Phoenix Union High School District's Supt. Dr. Chad Gestson and Save Our Schools Arizona's co-founder and spokesperson Dawn Penich-Thacker had to say about it.