Tag: teaching jobs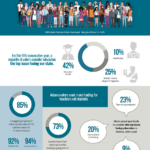 Expect More Arizona commissioned its annual statewide public opinion survey of 600 likely Arizona voters in November 2019. For the fifth year in a row, poll results show that voters believe education is the most important issue facing our state, above immigration, healthcare or the economy. Voters continue to consider teacher pay and a general lack of funding to be our state's most significant education issues.

Few parents are using 529 savings plan for their school-aged children's tuition more than a year after the Trump Administration first allowed the tax-advantaged funds to go to K-12 private education, according to several plan administrators.
About 5.5% of withdrawals for beneficiaries 16 and under were made in 2018, up 4% from 2016, according to Ascensus, which administers 529 plans for 20 states and the District of Columbia.