Tag: systemic racism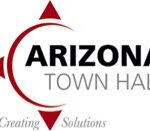 What is systemic racism?
What are the effects of systemic racism?
How can we begin to set things right?
For much of this year, many of us have been asking questions about systemic racism. But we have had years to ask these questions and years to listen to and act on the answers. As Arizona Cardinals player Larry Fitzgerald wrote in the New York Times, systemic racism and the events of this year are "not new territory for our America." … ttend one of our 90-minute online Zoom facilitated discussions hosted by the Black Board of Directors Project and Arizona Town Hall: Listening and Learning About Systemic Racism.