Tag: Super Service Sabado!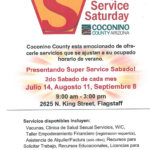 Coconino County is introducing "Super Service Saturday" July 14, Aug. 11, Sept. 8 to provide the with a one-stop location for a variety of their needs.
Students get a FREE backpack when they get a Back-to-School shot or Sports Physical on July 14 and Aug. 11 while supplies last.