Tag: summer camp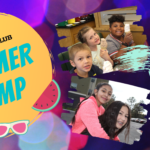 The Boys & Girls Club of Flagstaff will present Youth and Teen Camp from 7:30 a.m. to 5:30 p.m. Monday through Friday through Aug. 7.
Youth Camp: Ages 6-12, $150 per week, breakfast and lunch provided.
Teen Camp: Ages 13-18, week of July 6th-10 closed, free with / $20 membership
Contact madi.ford@bgcflag.org for more information.