Tag: suicide prevention training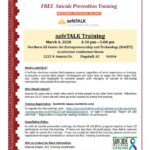 safeTALK, a Free suicide prevention training, will be held from 1:30 to 5 p.m. Wednesday, March 4, at the  Northern Arizona Center for Entrepreneurship and Technology (NACET) – Accelerator Conference Room, 2225 N. Gemini Drive, Flagstaff.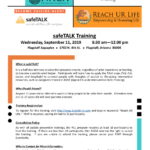 safeTalk, a free Suicide Prevention Training, will be held from 8:30 a.m. to noon Wednesday, Sept. 11 at the Flagstaff Aquaplex, 1702 N. 4th St., Flagstaff.
safeTalk is a half-day alertness session that prepares anyone, regardless of prior experience or training, to become a suicide-alert helper. Participants will learn how to apply the TALK steps (Tell, Ask, Listen, and KeepSafe) to connect people with thoughts of suicide to life-saving intervention resources, such as caregivers trained in ASIST (Applied Suicide Intervention Skills Training).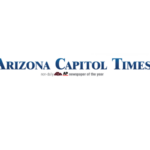 It's billed by proponents as a way moms can defend themselves from attackers while dropping their children off at school. But legislation that cleared the Senate Judiciary Committee Thursday on a 4-3 party-line vote also would permit high schoolers who are at least 18 to bring and keep loaded weapons in their vehicles. And that alarmed some foes of HB 2693 who said it creates the opportunity for what starts out as a spat among students to quickly escalate if one goes out to the parking lot to retrieve the weapon.