Tag: STEM Provider Certification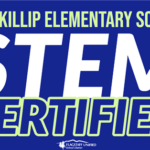 The school-improvement, assessment, and certification organization Cognia™, a nonprofit organization, recognizes W.F. Killip Elementary School with Cognia™ STEM Provider Certification.
"The certification is designed to differentiate organizations that simply put a STEM stamp on their materials and marketing and those that have products and services that meet high standards," says Dr. Mark A. Elgart, president and CEO of Cognia. The certification process, Dr. Elgart notes, involves several stages of rigorous internal, external, and on-site review and assessment of performance against standards focused on contributions to the STEM pipeline, STEM learning, connections to real-world applications and community, and program efficacy.