Tag: Southwest Native-American Foundation 2019 scholarship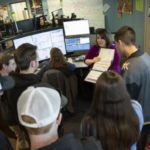 The high school students listened intently to the 9-1-1 call. The woman told the dispatcher that her baby wasn't breathing. The dispatcher, calmly, walked the mother through the steps of cardio-pulmonary resuscitation until emergency crews could arrive.
"We are all super passionate about what we do," said Katie Brandis, Communications Manager at the Law Enforcement Administrative Facility in Flagstaff. And, even though the work is stressful, she added, it is also very rewarding and dispatchers often make a difference between life and death.
Twelve students from area high schools spent the day on Nov. 14 at the Law Enforcement Administrative Facility learning about the careers in policing and emergency services available in Flagstaff and in the county. The event, the second installment of a two-day series, was organized by the Coconino County Arizona @ Work Business Service team, of which Coconino Community College is a member.