Tag: Snook's Science in the Park!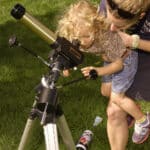 On September 24th, make figurines with clay, play catch with a robot and learn about building model railroads at the 2022 Snook's Science in the Park!
Have you ever tried an augmented reality headset, where you can explore the future of spatial design? Would you like the chance to view the ASU Lunar Reconnaissance Orbiter Camera (LROC) and ShadowCam? Plus, you can enjoy a stunning performance from Momentum Aerial demonstrating how physical and biomechanical principles keep aerialists in the air and the audience on their toes! 
The fun is endless at our popular family science fair, where YOU are the scientist for the day! Science in the Park will be happening on Saturday, September 24th from 10 a.m. to 2 p.m. downtown at Wheeler Park. FREE for the entire community!