Tag: Senior Exit Interviews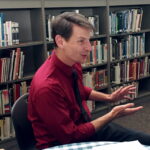 After presiding over the final of four Senior Exit Interview sessions, you would expect Walter Halaberda to just collapse into his chair and take a much-deserved break.
Instead, Halaberda, an English teacher at Flagstaff High School, was leading an animated discussion in the school's library on how well the students did facing an onslaught of questions from panels of two or three community volunteers during the 30-minute sessions.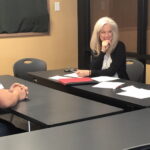 About 100 Flagstaff High School seniors are getting an intensive course on how to present themselves professionally and with confidence during job or other interviews thanks to the school's annual Senior Exit Interviews held during four sessions in April in school's library. The final session will be on April 30.