Tag: School Voucher Expansion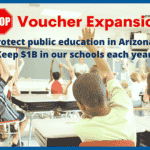 Editor's note: The Coconino Coalition for Children & Youth is a non-partisan organization that supports educated, engaged and participatory communities. Per the Coalition's 2022 Action Statement, "CCC&Y does not support voucher or tax credit expansion until the effects on the general fund are addressed." "CCC&Y supports policy that encourages equal transparency and accountability across all schools using public funds."
By Friends of Flagstaff's Future — The Arizona Legislature voted this June to pass universal ESA vouchers. This impacts public education in the state by diverting over $1 billion away from public schools. The Legislature defied the will of 1.5 million Arizona voters who overwhelmingly rejected this dangerous voucher expansion in 2018 through Prop 305.
Arizona voters have one chance to stop this bill from going into effect – a referendum of HB2853 (Universal ESA Voucher Expansion): "Stop Voucher Expansion."  The Arizona Constitution allows voters the right to determine whether a law can go into effect via a referendum.
In order to stop the Voucher Expansion, 118,823 valid signatures must be collected before September 24, 2022. This will put the law on hold until the November 2024 election, when AZ voters will be able to eject these destructive universal ESA vouchers.