Tag: school open house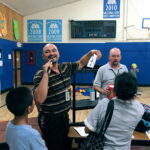 By CCC&Y • The gymnasium at Killip Elementary School in Flagstaff was filled with parents eager to get information on programs and services for their children from many of the school's community partners.
However, most students were intent on getting stickers from each of the presenters seated at the information tables.
So it went during the first session for younger students at the school's open house on Aug. 12, which continued for older students on Aug. 13. Parents also had the opportunities to go to their children's classrooms and talk to teachers about the expectations and challenges during the upcoming school year.
The scene at Killip was repeated at schools across the Flagstaff Unified School District and throughout Northern Arizona, with open houses held on Aug. 6 at Leupp Public School and Aug. 19 at Mount Elden Middle School in Flagstaff.
See list of upcoming open houses