Tag: school lunches

In an effort to make paying for school lunches more convenient for families, Flagstaff Unified School district officials decided to revamp the payment system.
At the FUSD governing board meeting in November, Assistant Superintendent Bob Kuhn and Food Service Director Joanne Plessner-Estes reported that the district was owed tens of thousands of dollars in delinquent meal fees, and she looked to the board for ideas on how to collect the overdue payments without refusing to serve students who had not paid.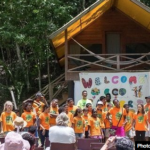 By Corina Vanek • Arizona Daily Sun
A Flagstaff High School freshman decided to forgo his summer of catching up on sleep and setting high scores on video games to travel to Belize to work as a camp counselor for a biodiversity camp.
Blake Acheson, 14, worked as a junior counselor at Chaa Creek Eco Camp in Belize, aiming to educate local children about conservation and biodiversity.
"During the camp we went o see Mayan ruins, sustainable farming techniques and talked about reducing, reusing and recycling," Acheson said.
The camp hosts 24 Belizean children, ages 8 to 13, for one week, according to the camp's website. Acheson, who arrived in Belize in early June, said organizers spent the weeks before camp preparing the crafts and activities for campers.