Tag: scholarships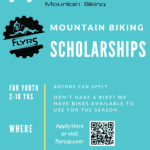 Apply now for FLagstaff Youth RiderS (FLYRS)'s fall session scholarships which starts August 22nd and runs until Oct 6th.
The FLagstaff Youth RiderS (FLYRS) is a 501(c)(3) nonprofit that fosters personal growth and an active lifestyle through mountain biking in Flagstaff, AZ for youth ages 2-18.
We aim to create a unique culture rooted in having fun while developing key bike handling skills. FLYRS facilitates youth mountain biking by offering a range of age- and ability-based programs throughout the year.