Tag: Save Our Schools initiative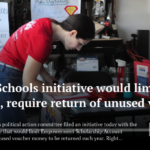 Save Our Schools Arizona political action committee filed an initiative (on Feb. 26) with the Arizona Secretary of State that would limit Empowerment Scholarship Account expansion and require unused voucher money to be returned each year.
Right now, the ESA program provides $110 million per year in public K-12 education funding to pay for private school education and personal educational expenses for 7,000 Arizona students through debit card or wire transfer of funds to their parents. About 60 percent of students with ESAs, also called vouchers, have disabilities or special needs.