Tag: rural communities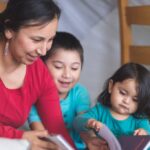 It's hard for some Arizonans to imagine. But there are communities all over the state where families can't get internet, or even reliable phone service. Most of us can't picture going through life without that, but for many, it's a daily reality. Driving to the top of a hill to get cell service; hour-long bus rides to get to school; roads that are virtually unpassable in the winter. And for those on tribal communities the challenges might be even more basic – many households lack running water or electricity, or both.
As you cast your ballot this year, keep them in mind. These are some of our most vulnerable populations and they need the support and resources that both government and nonprofit groups provide.
Whatever your concerns are, they can be reflected in your vote. For rural communities in Arizona, there are resources and support, but at times, the resources available aren't always reflective of the community's immediate needs. During the pandemic, as teachers often do, many teachers continue to use their personal devices and other self-purchased tools to make it through this year.