Tag: Rookie Teacher of the Year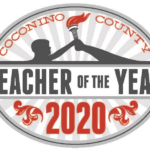 Each year, the Coconino County Superintendent of Schools office holds a Teacher of the Year, Rookie Teacher of the Year and Ambassadors for Excellence Awards Event, but due to COVID-19, the 2020-2021 event will not be held. The School Superintendent's Office hopes to continue the annual tradition in the future.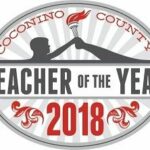 Nominations for the Coconino County Teacher of the Year and Rookie Teacher of the Year (a teacher who started last year) are now open. You can find the nomination form at www.coconino.az.gov/1863/Celebrate
Anyone can nominate a teacher that they think is excellent.
The Coconino County Superintendent's Office is committed to supporting and improving educator quality by creating conditions for teachers to flourish. This Recognition Event highlights exemplary teachers while initiating a new conversation around the foundation for a transformative educational system. If we truly want a world-class educational system, we must honor exceptional teachers.