Tag: return to school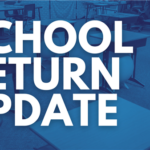 Executive Order 2021-04 issued by Governor Ducey on Wednesday, March 4, 2021, requires all Arizona schools to return to in-person instruction after their scheduled spring break.  This order aligns with the decisions and timelines made by the Flagstaff Unified School District (FUSD) Governing Board last month to begin our phased return to in-person learning on March 22, 2021.  To comply with the executive order, the FUSD will modify the grade bands returning during the week of March 22 to include all elementary students in grades PK-5.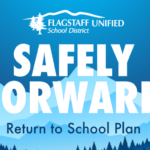 The Flagstaff Unified School District Governing Board approved a recommendation to have all students begin the 2020-2021 school year, on August 17, 2020, in Flexible Remote Learning and Distance Learning options only and delay the start of In-Person Learning at school sites at least through the first quarter (October 9, 2020).  The recommendation to move entirely to online remote learning was based on significant levels of spread and positive cases of COVID-19 in local communities and the state of Arizona, and the District's commitment to the health and safety of students, FUSD staff, and vulnerable members of our communities.
"Making this decision now provides more certainty about the start of the school year, and enables staff to focus solely on preparing for high quality remote and distance learning," said FUSD Superintendent Michael Penca. "We know this decision impacts our students, families, and community, and we appreciate their understanding and flexibility as we deal with the implications of this global pandemic."