Tag: reating Vibrant Communities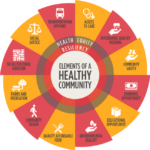 Vitalyst Health Foundation, in partnership with community experts and the Arizona Town Hall Research Committee, has been working diligently to create a remarkable resource for informed discussion about how to ensure communities are healthy and vibrant. While some additional details may be added before the report officially goes to print, the initial background report provides a wealth of information and ideas.  
Click here to view the initial background report online.