Tag: Reach UR Life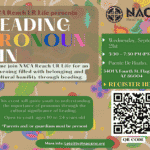 Native Americans for Community Action (NACA)'s Reach UR Life is presenting a variety of free trainings and technical assistances to youth serving agencies and the school system to build capacity and sustainability in the workforce. Our goal is to guide our community members and partners of early screening, resources, and support for youth (10 to 24 years) exhibiting risk factors for suicide. Overall, we are wanting to promote protective factors and reduce the risk of suicide. 
For it being Suicide Prevention Month, our program has upcoming free trainings and events for all to join. 
Please feel free to forward this to anyone who may be interested.