Tag: Quality First Forums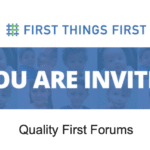 We are grateful for you, the Quality First Participant. Your dedication, commitment, and hard work make a big difference in the lives of Arizona's youngest learners. We are honored to support you in doing what you do best–helping young children be ready to succeed in school and in life.
Join us for the 2023 Quality First Forums! Hear new information from the Quality First team, ask questions, and meet other providers in your community. In-person and virtual options are available this year, and translation services will be available at select locations. The two-hour sessions will be held from January- March. To save your spot at the Forum of your choice, sign up via the Registry.
To find a list of events, login to the Registry and search Quality First Forum.