Tag: Proposition 410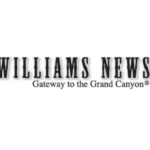 Coconino Community College president Colleen Smith has been working hard to get the message out about Proposition 410, a proposed property tax override. Smith addressed the Williams City Council and Williams Unified School District governing board this month with her proposal.
The proposition will be on the Nov. 8 ballot and is asking voters to approve a property tax increase that would fund college programs and provide services to high school students and veterans. The new property tax would begin in tax year 2019 after the final payment on the voter approved 20 year bonds that built the college's campuses. The tax would continue for seven years.
CCC's revenue sources are tightly controlled by state law and the governing board has determined that the amounts currently allowed provide insufficient revenues for the college.

With the November elections coming up, Coconino Community College has been working to get the word out on their proposed property tax override.
Proposition 410 will be on the Nov. 8 ballot asking voters to help the college fund programs for vocational skills and replenish staff numbers through a property tax increase.
An endorsement of the proposition from the Greater Flagstaff Chamber of Commerce recently came on the heels of CCC's 25th anniversary celebration.
"The chamber has weighed in on that and will be advocating for its passage," said Stuart McDaniel, vice president of government affairs at the chamber. "Education, and especially workforce development, is something that the chamber is very much in support of."