Tag: Prevent Child Abuse Arizona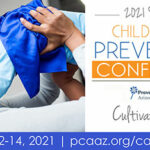 Prevent Child Abuse Arizona will present its 27th annual statewide Child Abuse Prevention Conference virtually on July 12-14.
This year's theme is Cultivating Trust, with a focus on how building and strengthening relationships is critical to creating the world we want for children. We will also explore this theme by connecting participants through chats, user profiles, message boards, games, and activity rooms.
The conference will feature dynamic, informational and inspiring speakers, and 25 interesting and exciting workshops to choose from. Recordings of all sessions will be available to registrants for one month after the conference.
We are partnering again with the Arizona ACEs Consortium for our July 12 pre-conference, featuring workshops and a movie screening.