Tag: Powered by Publics: Scaling Student Success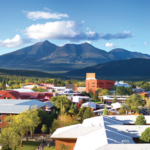 Northern Arizona University announced recently that it is participating in a massive new effort with 130 public universities and systems to increase college access, close the achievement gap and award hundreds of thousands more degrees by 2025.
The Association of Public and Land-grant Universities (APLU), which is organizing the collaborative effort, announced the Powered by Publics: Scaling Student Success at its 131st annual conference in New Orleans.
The participating institutions will work within "clusters" of four to 12 institutions as they concurrently implement innovative and effective practices to advance student success on their campuses. Collectively, the institutions enroll 3 million students, including 1 million students who receive Pell Grants.