Tag: Pine Forest

The smell of fresh paint and new carpet filled what used to be the sanctuary at St. Pius X Catholic Church, which was now filled with elementary and middle school students, sitting in a circle around their principal singing a song before the start of the school day.
Friday marked the third day all the students at Pine Forest Charter School attended class at the new campus on Cedar Avenue and Fourth Street. Kindergarten and preschool students had been at the new campus since last school year, and first-graders joined them in August.

Education leaders ranging from elementary school teachers to Northern Arizona University administrators discussed tactics to better bring science education into classrooms Monday night at the Rodel Foundation's annual Flagstaff event.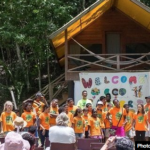 By Corina Vanek • Arizona Daily Sun
A Flagstaff High School freshman decided to forgo his summer of catching up on sleep and setting high scores on video games to travel to Belize to work as a camp counselor for a biodiversity camp.
Blake Acheson, 14, worked as a junior counselor at Chaa Creek Eco Camp in Belize, aiming to educate local children about conservation and biodiversity.
"During the camp we went o see Mayan ruins, sustainable farming techniques and talked about reducing, reusing and recycling," Acheson said.
The camp hosts 24 Belizean children, ages 8 to 13, for one week, according to the camp's website. Acheson, who arrived in Belize in early June, said organizers spent the weeks before camp preparing the crafts and activities for campers.