Tag: Pathways for Single Moms Program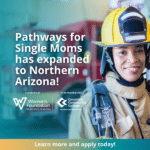 Coconino Community College has been selected by the Women's Foundation for the State of Arizona (WFSA) as the nonprofit partner to launch the Pathways for Single Moms Program in the state's northern region.
This program is designed to eliminate barriers to higher education for single moms by giving them the necessary resources to secure livable wages and forge a career path. Taking a holistic approach, the program helps women navigate life's challenges by supporting the successful completion of a certificate program in growing fields. The tuition-free certificate prepares these women for careers in growing industries that pay a thriving wage, thus confronting the cycle of poverty in their families.