Tag: parents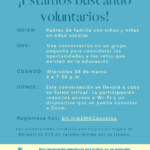 We are looking for volunteers for a virtual conversation.
WHO: Parents of school-age children
WHAT: A small group conversation about opportunities and challenges in education
WHEN: Wednesday, March 24 — 6 to 7:30 p.m.
WHERE: This will be a virtual conversation. participation will require access to wi-fi and a device that can connect to ZOOM.
REGISTER TODAY: bit.ly@EMACoconino