Tag: Parenting Arizona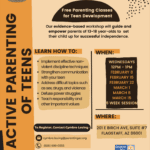 Parenting Arizona to present a 6-week "Active Parenting of Teens" Free Parenting Classes for Teen Development from noon to 1 p.m. Wednesdays at 201 E. Birch Ave., Suite No. 7, Flagstaff.
Our evidence-based workshop will guide and empower parents of 13-18 year-olds to set
their child up for successful independence.