Tag: Parenting Arizona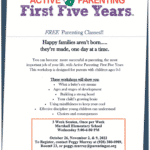 Parenting Arizona to present a three-week "Active Parenting First Five Years Free Parenting Classes" from 5 to 6 p.m. Wednesdays, Nov. 9 at Marshall Elementary School.
You can become more successful at parenting, the most important job of your life, with Active Parenting of Teens. This workshop is designed for parents with children ages 0-5.