Tag: Page Unified School District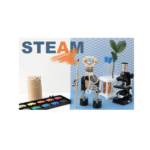 Think back to a time in your childhood when you were inspired by a teacher or a mentor. Maybe you had a family friend with an engineering career that fascinated you, or your 3rd grade teacher led a memorable science experiment that you tell stories about still to this day.
Imagine if you could cultivate that same sense of awe and inspiration in a local classroom. What would you teach? What would you share? These formative years are a crucial time to encourage inventiveness, innovation, and curiosity in the youth of today and the future of tomorrow. 
​
That is the premise behind Full STEAM Ahead: to bring local professionals into Flagstaff's classrooms to share the world of STEM with our future innovators and inventors.