Tag: Page Unified School District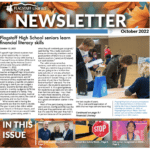 Flagstaff High School students had a great opportunity to sharpen their financial literacy skills during a Financial Fitness in Action (FFA)event conducted by the Arizona Council of Economic Education (ACEE)on October 11,2022.
Danielle Bonfig, a 12th-grade teacher at Flagstaff High School who teaches social studies, specifically economics, government, and AP microeconomics, explained that the event is simply a real-life simulation of trying to see if you can budget a salary. Students learned about the cost of a monthly budget to fulfill the wants and needs of a family. They also learned about housing, medical insurance, auto insurance, the cost of groceries, and so much more.