Tag: page public library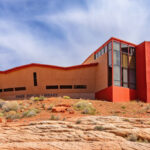 The Library Journal has announced its star libraries for 2020, and yes, the Page Public Library is one of them.  
The Library Journal is pleased to announce the results of the 13th edition of the LJ Index of Public Library Service. The LJ Index rates U.S. public libraries based on selected per capita output measures.
The 2020 Index derives from data recently released by the Institute of Museum and Library Services.
Page Public Library, or the PPL, plays a critical role in connecting community members to vital resources and programs, they are the heart of the Page community. They are accessible and safe spaces, providing access to huge resources of information and knowledge.