Tag: online classes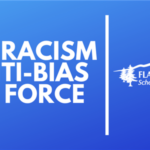 Participants need to RSVP by Thursday, October 1st at 6:00 p.m.
The Flagstaff Unified School District Anti-Bias and Anti-Racism Task Force will host a digital virtual town hall meeting on Monday, October 5, 2020 at 6:00 p.m. so that the community can provide insights on work in the areas of curriculum, professional development, staff diversity, and student behavior/social emotional learning.  The information gathered at the meeting will be considered as part of the Task Force's report to the FUSD Governing Board meeting scheduled for Tuesday, November 10, 2020.
Individuals interested in participating in the town hall are invited to RSVP via a form available here.  There is a cap on the number of active participants due to technology constraints, but the event will also be live streamed to the Flagstaff Unified School District Facebook, Twitter, and Vimeo accounts so that the public can view the meeting.