Tag: Northern AZ STEM Unconference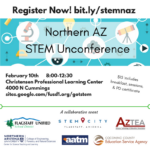 The Northern Arizona STEM Unconference will be held from 8 a.m. to 12:30 p.m. Saturday, Feb. 10 at the Christensen Professional Learning Center, 4000 N. Cummings, Flagstaff.
This event is open to all educators! Collaborate with other colleagues, get your questions answered, brainstorm strategies for teaching STEM, and help your students become problem solvers.