Tag: Northern Arizona Universit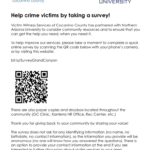 Victim Witness Services of Coconino County has partnered with Northern Arizona University to consider community resources and to ensure that you can get the help you need, when you need it.
To help improve our services, please take a moment to complete a quick online survey by scanning the QR code below with your phone's camera, or by visiting this website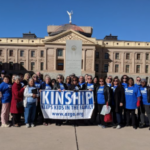 All children who live in foster care require financial support so their temporary families can provide them safe care and bring stability to their lives. But children removed from their homes by the Department of Child Safety (DCS) and placed with relatives or family friends – known as kinship families – are often missing the support that comes to licensed foster families.