Tag: Northern Arizona Alzheimer's Alliance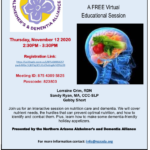 "Nutrition, Food, and Dementia — A FREE Virtual Educational Session," will be held from 2:30 to 3:30 p.m. Thursday, Nov. 12.
Featuring: Lorraine Crim, RDN Sandy Ryan, MA, CCC-SLP Gabby Short
Join us for an interactive session on nutrition care and dementia. We will cover nutrient needs, the hurdles that can prevent optimal nutrition, and how to identify and combat them. Plus, learn how to make some dementia-friendly holiday appetizers.
Presented by the Northern Arizona Alzheimer's and Dementia Alliance