Tag: nazTV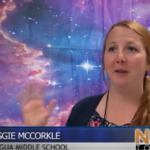 Teacher of the week, Maggie McCorkle, leads a classroom that is based on honesty and transparency to create a positive culture at Sinagua Middle School. She became a teacher so she could be there for people, by giving them knowledge or emotional support. She wants to create an environment where students are comfortable.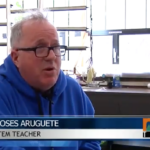 NAZ's Today teacher of the week is Moses Aruguete, a STEM teacher at Killip Elementary School.
Aruguete pursues his kids to be engaged in the community and guides them to be self-reliant. Aruguete believes there are three elements to a student's success in science, and the STEM program. A vision of what you plan to accomplish, a positive attitude and knowing it is ok to fail are essential for a students' success.
Students work on a variety of science projects throughout the school year. A solar powered model car, building snow shelters to withstand rain and gardening are just a few of the many projects being worked on. Aruguete and Killip Elementary welcome new ideas for projects with open doors.