Tag: Navajo Times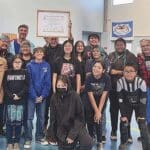 TWIN LAKES, N.M. – A charter school based in Leupp, Arizona, recently received recognition for its values in respect, relationship, responsibility, and reasoning from an international organization.
On Oct. 31, the STAR School, founded in 2001, received an award from Home for Humanity, an organization based in France that espouses supporting individuals to become agents of transformation of homes and seedbeds for ecological and societal regeneration.
The preschool through eighth-grade school is an acronym of "Service To All Relations" and has an enrollment of 30 students with a dozen staff members.