Tag: Navajo Nation Code Talkers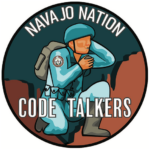 Flagstaff High School senior Alyssa Williams is just at the beginning of her graphic design career, but already she has notched two big wins — she was part of the pair who won the Vans Custom Culture Contest in 2019, and now her design has won the Code Talker Seal Design Contest that will be featured on an Arizona specialty license plate.
The contest was held in partnership with the Arizona Department of Transportation and the Governor's Office on Tribal Relations to design a seal to reflect the historical and unique contributions made by the Code Talkers of many different tribes across the United States.
The Code Talkers Seal Design Committee selected five designs based on artwork and an essay describing how the design honors all Code Talkers and how it has impacted them personally.
Williams' design won with 61 percent of the 20,565 votes cast.