Tag: Navajo-Hopi Observer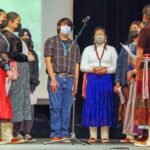 Students from Page public school grades 9 through 12 presented the Page High School Diné Winter Stories Conference to a large audience on Dec. 1 at the high school's Cultural Arts Building.
The culturally diverse audience was treated to an unforgettable evening, the culmination of the students' work during the fall semester. Page High School and Middle School have a strong Navajo Language and Culture program.  
Dressed in traditional attire, students presented the program with the help of a large monitor screen. The students started by presenting the cultural time-scale that spans several "worlds":  The First World, Nihodilhil (Black World); the Second World, Nihodootlizh (Blue World); and the Third World, Nihaltsoh (Yellow World). We are currently in the Fourth World, Nihalgai, the Glittering or White world.