Tag: NAU's Climate Science and Solutions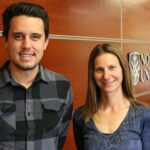 By Theresa Bierer • Northern Arizona University students in a professional master's program have benefitted learning experiences in high school classrooms, Flagstaff teachers are saying.
The graduate students in NAU's Climate Science and Solutions program prepared a greenhouse gas inventory report for the Flagstaff Unified School District, measuring the effects of boiler combustion, energy use and transportation. Part of the semester-long project included communication with high school students.