Tag: NAU school reopening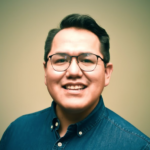 This week's featured Indigenous scientist is Aaron Yazzie. Aaron was born in Tuba City, Arizona, and was raised in Holbrook, Arizona, the seat of Navajo County.
Yazzie attended Stanford University, where he received a Bachelor of Science in Mechanical Engineering in 2008. In September of that year, he started working for NASA's Jet Propulsion Laboratory in Pasadena, California. There, he designs mechanical systems for robotic space research systems. He has contributed to the Mars Science Laboratory Rover missions, the Mars InSight Lander Mission, and the Mars 2020 Rover Mission, the latter of which is due to launch on July 30th, 2020. You can check out a 3D visualization of the Mars 2020 Perseverance Rover here.