Tag: Native Americans for Community Action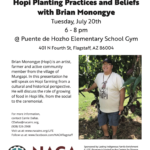 Hopi Planting Practices with Brian Monongye will be held from 6 to 8 p.m. Tuesday, July 20 at Puente de Hozho Elementary School Gym, 401 N. Fourth St., Flagstaff.
Brian Monongye (Hopi) is an artist, farmer and active community member from the village of Mungapi. In this presentation he will speak on Hopi farming from a cultural and historical perspective. He will discuss the role of growing of food in Hopi life, from the social to the ceremonial.