Tag: Native Americans for Community Action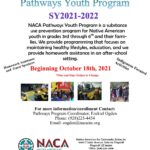 Pathways Youth Program, SY2021-2022, is seeking participants. The program began on Oct. 18. Pathways is a youth substance use prevention program for Native American youth in grades 3rd-6th and their families.
We provide provide programming  that focuses on maintaining healthy lifestyles, education and we provide homework assistance in an after-school setting.