Tag: Native American Month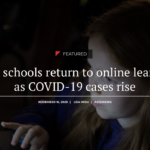 More schools have announced that they are returning to online learning or continuing it as COVID-19 cases rise around the state, and public health officials say they're expecting it to get worse after Thanksgiving. …
School districts are evaluating Maricopa County Department of Public Health metrics to decide if they should return to online learning to reduce the chance of spreading COVID-19 as cases in the county rise significantly, said Chris Kotterman, Arizona School Boards Association's director of governmental relations.
"So the first thing to understand is that no one really agrees that this rapid transition to online-only education is necessarily a great thing, right? So everyone agrees that it's less perfect than being in school, as everybody wants to be," Kotterman said to KJZZ 91.5 FM this morning.
"But the thing about COVID is, it doesn't really care what we want — it cares what we do," Kotterman said.