Tag: Native American Heritage Month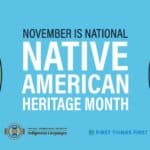 We are grateful for your participation in this year's activities to celebrate Native American Heritage Month (NAHM). 
For this year's theme, we focused on one of the International Decade of Indigenous Languages (IDIL 2022-2023) outcomes, which is to empower Indigenous Peoples to learn, teach, and transmit their languages to current and next generations. Your participation in celebrating and honoring NAHM along with us has helped us to continue to expand our mission in collaborating with Arizona's Indian tribes and nations to ensure all children are ready for school and set for life and to promote the IDIL 2022-2023 initiative. 
During this month, we shared stories about children and families from tribal nations and communities in Arizona, debuted a blog about language preservation efforts in some FTF tribal regions, promoted champions for young children in our FTF regions and highlighted Arizona's strong tribal presence.