Tag: NACA's Native Connections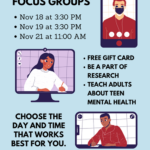 Stronger as One and NACA's Native Connections are hosting three upcoming Youth Focus Groups on Nov. 18, 19, 21 on the impact of COVID-19 on mental health and wellbeing of youth in our community. Youth who participate are helping inform our work to support them during this difficult time, and will receive a gift card to either Dutch Bros or Sprouts!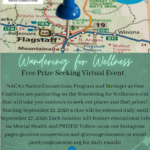 Please join us for our Wandering for Wellness event through September 27th, as a way to take care of ourselves, get outside and enjoy the area we live, and learn more about mental health.
Each day we will release clues about the location of a cache with information and prizes hidden somewhere within the greater Flagstaff area.
This event is free and open to the public, with prizes hidden throughout the community, and is open to all ages.
Join us for a fun event to learn more about mental health and engage with our surroundings in a safe way!