Tag: Mission Statement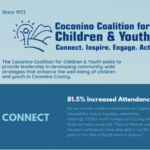 FLAGSTAFF — The Board of the Coconino Coalition for Children & Youth has approved new Mission and Vision statements for the organization.
Mission:
Igniting collective action to cultivate, honor & empower resilient, thriving communities.  
Vision:
We envision a holistic community where all children of Coconino County are increasingly free from trauma experience and all have equitable opportunities that build resiliency.