Tag: Mental Health First Aid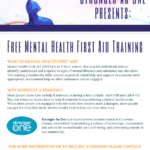 Stronger as One will present a Free one-hour Mental Health First AID Training, an 8-hour course that teaches individuals how to identify, understand and respond to signs of mental illnesses and substance use disorders. The training provides the skills needed to provide initial help and support to someone until appropriate professional help or other assistance can be engaged.

Please join the Guidance Center on August 11th for their FREE Mental Health First Aid training.

Northern Arizona Regional Behavioral Health Authority (NARBHA) and Arizona Department of Health Services/Division of Behavioral Health Services (ADHS/DBHS) is in receipt of a Special Allocation of Funds by the Arizona State Legislature to train as many people as possible in Youth Mental Health First Aid (YMHFA) through June 30, 2014. As an agency, organization, or […]